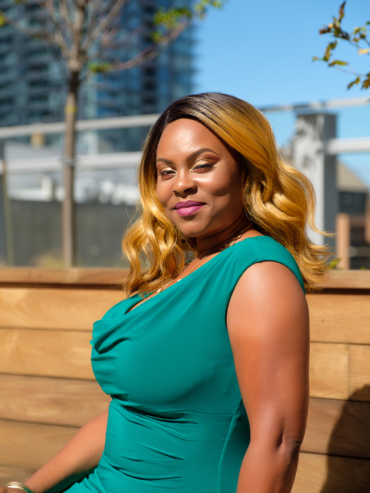 Running my business consumed me to a point where it was all I knew. Socializing? Love life? Vacation? What was that? The more I looked at it, the more I didn't recognize my life. Whose life was this? Where was my husband? Where were my children? I love to travel, but when was the last time I went anywhere? I love style and fashion but haven't worn more than tights and loose tops over the years.  My life and my world were reduced to what I could see from behind my desk; through the lens of my computer and the scope of the world wide web.
What's worse was that I couldn't even say I had much to show for my almost 15 years in business. I'm not a millionaire yet and neither are any of my clients. But I learned that's what you get when you try to create Starbucks campaigns on Tim Horton's budget. What I do have are invaluable skills and talent, but applying great skill and talent on a small budget, is equivalent to putting a bird in a cage. Even though it can spread its wings, it can only fly so far, if anywhere at all.
As 2016 was closing, I decided 2017 was going to be the year that I turned things around. I started on January 1, 2017, by getting closer to God. I joined The 180 Church and immersed myself in it; signing up for home groups, the Serve team and participating in activities outside of Sunday service. I wanted to reset my life and put God first. Even though I had read and studied the Bible for years and spent time in and out of various churches and religions, I needed to firm up my relationship with Him for the latter half of my life. I needed to rebuild my house on a rock.
"Therefore whoever hears these sayings of Mine, and does them, I will liken him to a wise man who built his house on the rock: and the rain descended, the floods came, and the winds blew and beat on that house; and it did not fall, for it was founded on the rock."

(Matthew 7: 24-25 NKJV)
I also had to give up certain people and habits and rediscover who I was without their influence. I had to get to know the real me and all the things I like and find ways to weave them into my life. My mind was set on new clients, new revenue streams and new industries. I wanted to get social and get healthy. I wanted to incorporate more reading, more writing, more creating and more God.
You should know that whenever you decide to change your life, you need to be prepared for anything. Most times, changes come as part of a package and you can't decide to cut out the bad and just take the good. And other times there are challenges meant to test you to see if you really are ready for the change you seek.
As 2017 was coming to a close I finally made my way back to Toronto (the city I love) after 5 years in Montreal (my hometown) rebuilding myself emotionally and spiritually. I was finally baptized! But what happened next was completely unexpected; I was diagnosed with stage 4 metastatic breast cancer, a terminal illness and from that moment, my life only got better and better.
I landed the biggest contract of my career, got my magazine off the ground, started the journey to live my best life and today, I'm proud to say I'm still at it! I feel strong, I'm not suffering and so many of my goals and dreams have come true it would blow your mind.
Today, despite living through a pandemic, my business is thriving with a team of 12, grant funding and new business opportunities. What's funny is that I am working on being a great blogger and content creator as well as a great leader and business owner. I aim to add value, educate and entertain. If you're reading this, then I'm probably not doing so bad.